Frequently Asked Questions
What are check in and check out times?
Rooms are guaranteed by 4pm. If you arrive any time after 11am and your room is available, we will check you into it. If the room is not ready, we can pre-register you and give you the wristbands that you will need to enjoy the amenities on our property until the room becomes available. Check-out time for hotel rooms is at 11am. Check-out time for Vacation Homes is 10am, you are welcome to use the amenities until 3pm.
Do you allow pets?
We do not allow pets.
What is your cancellation policy?
Our Standard cancellation requires 1 week notice (7 days) prior to your arrival date, for any change or cancellation. There is a $25 cancellation fee, with the remaining monies refundable. Group reservations and Vacation Homes have different requirements - 14 day or 30 day cancellation will apply. Always check your confirmation details.
Can I check out a day early?
There are NO refunds offered after check in. All changes must be made at least 7 days prior to arrival.
When is the balance due?
You may call in to make payments at any time. The remaining balance will be due at check in.
Can outside people use the pool?
No, you must be a registered guest to have access to any of our amenities. We are not licensed a public facility and require wristbands to be worn while on property. We are not able to sell day passes.
Can I have a birthday party at the pool?
No, we do not offer a package for pool parties. You must be a guest at the hotel to have access to the pool, and the number of people with access is limited by the type of room reserved.
Do I have to wear a wristband?
Yes, wristbands must be worn and visible while using our amenities. They can be removed then replaced by bringing the used wristband to the Front Desk and exchanging it for a new one. Lost Wristbands will incur a fee to replace.
Do you have cribs available? How much do they cost?
Cribs are available for any room at no additional cost.
Do you have cots available? How much do they cost?
Cots are available for certain room types only, at an additional cost of $25 per night, plus tax
Is parking free? What about boats/trailers?
Yes, we have free parking with enough space to accommodate a boat or trailer. However, during events such as car shows and Bikefest, there is an additional fee of $50 for trailer parking.
Where does the shuttle bus take you? When/How often?
Our Shuttle Bus service is available from Memorial Day-Labor Day from 9am to 10pm daily. The drop-off and pick-up location downtown is at Somerset Street and Baltimore Avenue, close to the downtown boardwalk.
Can I purchase Gift Cards?
We have Gift Cards available at the Front Desk, or you may purchase them by phone and we will mail them to you.
How many people are allowed in a room?
The maximum number of people allowed is limited to 4 or 6 people depending on the room type. This total includes all adults and children, and is the maximum number of wristbands you can receive for access to our amenities. Anyone older than 9 months will need to be included.
Do you have handicap accessible rooms?
Yes, we have ADA complaint rooms available upon request. There are different options, which may suit your needs from avoiding stairs, to handrails in the bathroom, to full wheelchair access.
Shuttle?
The Shuttle Buses, as well as our pools, are equipped with handicapped lifts.
When can I reserve for a Vacation Home?
We begin the reservation process on Oct 1 for the following season at 8am. Vacation homes are not available to reserve online due to limited availability and only rented Saturday- Saturday.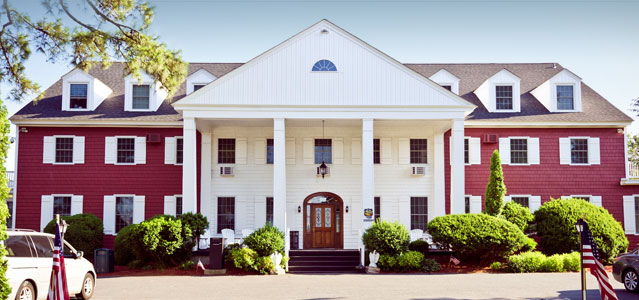 Local Events

Coming Soon

FSK Map

A Birds Eye View

The Francis Scott Key Resort is home to a number of swimming facilities, playgrounds and restaurants. Get an overhead view of the resort and know your way around.

Attractions

Peg Leg Putt Putt

Our FREE miniature golf course consists of 9 beautifully landscaped holes, with a bridge over a stream, waterfall, octopus, cannon, skull cave, treasure chest and more.
Our family resort is located in sunny Ocean City Maryland
12806 Ocean Gateway Ocean City, MD 21842
Hotel Office - 410-213-0088
Toll free - (800) 213-0088
Fax - (410) 213-2854